3 days 2 nights Melbourne Package tour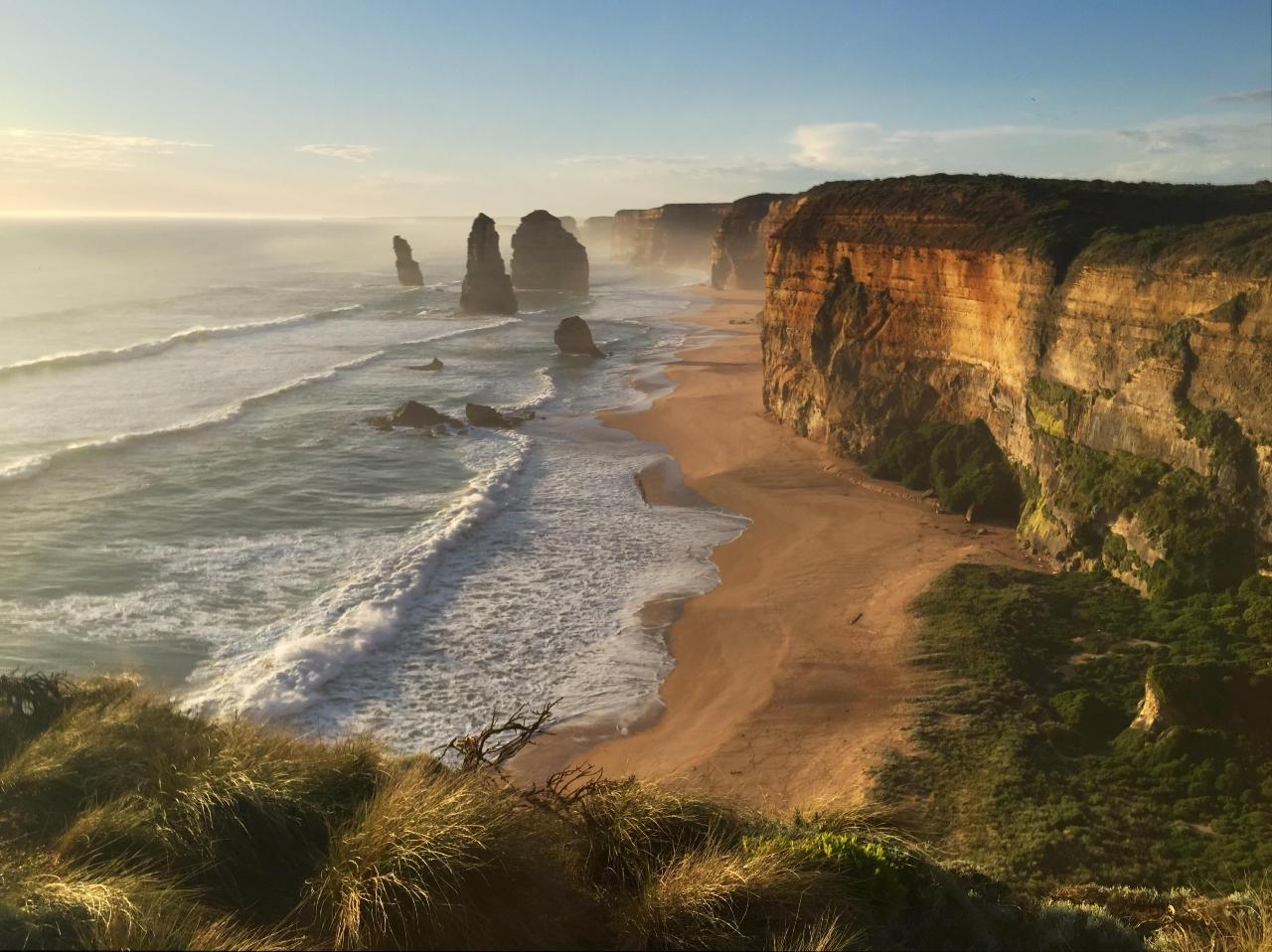 Duration: 12 Hours (approx.)
Location: Melbourne, VIC
Product code: 3d2nmpt
Day 1: (L)
Melbourne
Free pick up from 100 places of stays around Melbourne Cbd,
South Yarra, St Kilda and South Bank and Melbourne airport (not sure where we pick up from just ask)
6.45-8:30 am an estimation.
Beaches of Great ocean road
The list of Surf Beaches in the vicinity of The Great Ocean Road is indeed endless. After an invigorating cup of morning tea at one of these sun kissed sandy stretches, get set to explore the other bounties of the tour
.
Memorial Arch (Eastern View)
Indulge in spontaneous photo shoots with the historic
Memorial Arch as the backdrop. Dedicated to 3000 men attributed to the cause of
making the Great Ocean Road, this venue makes you take relaxed strolls through
some of the most beautiful beaches on the island-continent.
Kennett River
If wildlife is your scene, then look forward to hanging out
with cute looking koalas in the coastal precincts of Kennett River. With plenty
of opportunities galore for bird watching, trekking and indulging your senses
in the wilderness of the region, this stop is best visited for the famous
kookaburra. And yes, there are plenty of colourful parrots, lorikeets and other
native birds vying for your attention too!
Apollo Bay
Its lunch time! Rest yourself and savour the tastes of the
menu options available at Illuka Restaurant in Apollo Bay– grilled fish/ roast
chicken/ burgers accompanied by chips and salad; Souvlaki wrapped traditional
Greek lamb frilled with lettuce, onions and tomatoes; a monster salad meal or
simply go-as –you-wish. Drinks and food are available as part of the package!
Vegetarian, western, chinese and Halal food options are
available.
After a hearty meal we explore some of the beautiful
attractions of this famous town of the great ocean road.
Otway's Rainforest
As we drive through the Ottway National Park you. Feel like dwarf as you
see some of the tallest trees on the planet; say "wow" to the scenery with
the Otway Ranges set amidst giant ferns and rare plant life; or simply get stunned by the views of the beautiful Cape Otway beyond.
12 Apostles
Get ready to witness and be enthralled by the rugged splendour
of the highlight of your day's trip—the 12 Apostles. These magnificent rocks
rise majestically on Victoria's dramatic coastline and
dominate the Southern Ocean with their beautiful limestone forms. You may
choose to fly over the Twelve Apostles (time and weather permitting) too –all
it costs is an extra $ 145 AUD for an ecstatic chopper ride. Go for it!
Loch Ard Gorge
The panoramic views of Port Campbell are definitely a "must-see". Take a walk under the shadows of towering limestone cliffs; click pictures of the inspiring Archway; explore the Dumpling Pots and The Razorback; or delve in the romantic tales of Australia's much talked about shipwreck….
The Loch Ard.
London Bridge and Colac
After some great photos at the London Bridge and listening to tales of its "falling down", take a rest break at Colac.
Overnight Stay:
Ibis Kingsgate or similar Value.
Day 2: ( B,)
After breakfast at hotel we depart about 12 pm
Then we head to Maru Koala park to have lunch and pat hand feeds the koalas, kangaroos, and much more Australian native animals.
Please note we advise to order your food first then go in and see the famous animals than when you finish your food will be ready. This will save time.
Tour option: We head to Panny's chocolate to sample the chocolate and buy some yummy chocolate if you wish.
Tour option: go behind the scenes for only 12 aud per person normally 17 aud as we are a tour company we get it for the special rate.
Tour option: Fly helicopters from 8-42 mins only 90 to 420 aud for more information check the website:http://www.phillipislandhelicopters.com.au/scenic-flights/
After check in we head out again and go visit Nobbies Wildlife Wonderland and then to the famous Penguin Parade to visit the beautiful little penguins that travel from the sea to their nests on and near the beach at Summerlands.
After the penguin parade, we head to our dinner at Wing Ho restaurant where we will enjoy a 6-course banquet with Chinese tea or we can choose another location like Jessie's Pizza who is halal for our Muslim clients.
After dinner, we head back to our back to our hotel.
We will stay at any 3-star hotel in City Ibis Kingsgate or similar, a great location with free wifi, close to local shops and restaurants
Day 3: (B, L)
After breakfast, we will head to Puffing Billy, Australia's most famous and oldest steam train, and travel one way from Belgrave to Lakeside which is a one hour trip…Our tour manager will be at Lakeside to pick you up…….
Clients also may choose Chinese or any choice of food as we can visit the tourist town of Healesville in the heart of Yarra Valley…
Tour option: During Spring and Summer months to October-March we can visit Chapman Berry farms then go to Warratina Lavender Farm, following on from our visit to we are off to visit any of the many popular wineries in Yarra Valley and Yarra Valley chocolatier, also Acacia Ridge winery great hidden gem winery where you can do the wine tasting in a gold miner hunt from the 1800's.
Tour option: After puffing billy some clients will want to come to Melbourne early to do last minute shopping we take you via the Brighton Beach bathhouses then after we take you to where you can go on something Aussie or do a tram tour on tram 35, get lunch DFO SouthWharf/Essendon once finish all your last minute shopping you can message our driver to come and get you and take you to your place of stay or back to the airport.
Price: $690 AUD per adult and $490 AUD per child. Infants are free of charge but conditions apply. Speak to staff about infants.
Contact Us
Package includes:
Complimentary wifi most of our buses
Day 1: Free airport pick up, park fees, lunch, drink, free wifi accommodation in City, Free wifi in accommodation
Day 2: Breakfast, entry park fees, accommodation with free wifi At Ibis Kingsgate hotel or Similar Value
Day 3: Breakfast, lunch, entry into Puffing Billy steam train ride, wine tasting fees.
Please note: during the tour we provide water for you every day, also free drop off and pick up regardless of when you decide to do the tour, arrive or depart Melbourne.
All accommodations are 3 stars.
Halal options available for this tour
Chinese and Western meals available.
After the tour we take you back to the airport or to where
you are staying.
Accommodation/suppliers upgrades
upgrades/special needs: Day 1 overnight: double room/single person room is extra around 50 aud per room per night. Day 1 has farm stays available at extra price for group of about 300 aud. Helicopter ride 145 aud at 12 apostles 10 minute ride over looking the famous view.
Day 2: double room/single room extra 50 per person per room. Phillip island has penguin parade upgrades: 30 aud for penguin parade plus vip, Eco boat tour Australian fur seal cruise 90 aud, phillip island helicopter ride 85 aud per person 7-10 min helicopter ride.
Day 3: double room/single person room is extra around 50 aud per room per night